Top Ten Tuesday is a weekly feature hosted by
The Broke and the Bookish
. A new topic is posted each week, and bloggers list their top ten in the category.
Top Ten Books I Resolve to Read in 2013
10. Steve Jobs
By Walter Isaacson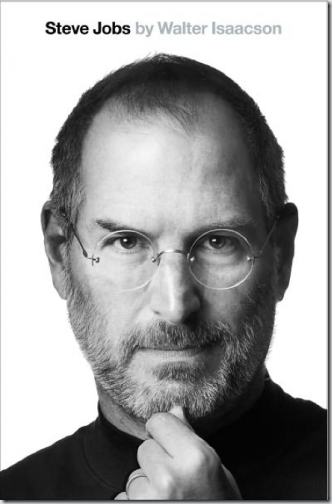 I've been meaning to read this book for awhile; I downloaded the eBook sample from Barnes & Noble and liked it, and one of my teachers who read it had a positive review. I think I've been a little scared of it because I'm always wary about biographies - some that I've read were good, some were bad, some were difficult to stay focused on, and others were force-fed to me in elementary school. This year, though, I'm finally going to man up and tackle this book.
9. This Side of Paradise
By F. Scott Fitzgerald
Because I've wanted to give F. Scott Fitzgerald a try for awhile now, and really hope I can get into his books, because they all look really interesting and promising. This is one of the ones that jumped out at me. I can't wait to give it a try. If I like it, F. Scott Fitzgerald might end up being the author I research for next semester's English project.
8. City of Bones
By Cassandra Clare
I love Cassandra Clare's Infernal Devices series, and although I've wanted to read the Mortal Instruments, I've also wanted to wait until I'd finished the Infernal Devices. Clockwork Princess finally comes out this year, so I'll be able to read City of Bones before the movie comes out.
7. The Jungle Book
By Rudyard Kipling
I read it many years ago, after I was in a play adaptation of it (I was a wolf pup and had two lines, one of which I had a lot of trouble remembering.) but don't remember much and probably didn't understand all of it since I was only ten. I've wanted to reread it since reading The Tiger's Wife over the summer, but didn't get around to it in 2012. In 2013, it's happening for sure.
6. The Beautiful and Damned
By F. Scott Fitzgerald
Another enticing book by F. Scott Fitzgerald. This one looks even more appealing than This Side of Paradise. The title, the plot synopsis, even the cover all just draw me in. I can't wait to give both books a try, and hopefully have another author to add to my favorites list.
5. The Lost World
By Sir Arthur Conan Doyle
Of course everyone knows Sir Arthur Conan Doyle because of Sherlock Holmes. And of course I love Sherlock Holmes. But he did write other books, one of which is The Lost World. I've wanted to read some of Conan Doyle's other books for some time now, just to see what they were like, and I figure this is a good place to start. I have high hopes for it; after all, we're talking about the genius who created Sherlock Holmes.
4. The Joy Luck Club
By Amy Tan
There's not much to say about why I want to read this book other than the fact that it just looks like a really amazing story. I'm really excited to get my hands on a copy and give it a try. Plus, I love reading about anything with Chinese culture involved; I find it so fascinating, and always have.
3. The Perks of Being a Wallflower
By Stephen Chbosky
Everyone at the writing camp I went to over the summer seemed to have read this book, and had nothing but praise for it. And then they made it into a movie. And I, for some ridiculous reason, still have not read it. It's a disgrace. I should be ashamed. So this year, I'm going to read it. Because other than the fact that everyone seems to love it, it has an incredible title. And I want to watch the movie.
2. Anna Karenina
By Leo Tolstoy
I've wanted to read this book for months. I almost bought it over the summer, but ended up buying Night and Day by Virginia Woolf instead - and have been kicking myself ever since. Not for buying Night and Day, of course, but for not buying Anna Karenina. Because of course they made it into a movie, which looks phenomenal. I mean, it sounds like such an epic story. With Jude Law in it. There's nowhere to go wrong! So now I'm even more determined to read the book, so I can watch the movie when it comes out on DVD.
1. Les Miserables
By Victor Hugo
I saw the movie on Sunday and loved it. Loved it. I mean, this movie was too incredible for words. So now, of course, I have to read the book. Here's hoping it's just as epic without being sung. Of course, I could just listen to the soundtrack on repeat while reading it.
~blackandwhitedreamer