The Wish List features one book from my wish list each week, along with why I want it. Thanks to Jill and
Breaking the Spine
and Ren at
All By Myshelf
for the inspiration for this feature.
Mastering Manga by Mark Crilley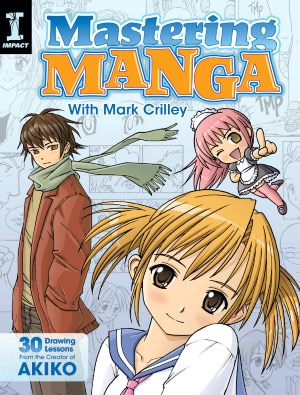 There's more to manga than big, shiny eyes and funky hair. In these action-packed pages, graphic novelist Mark Crilley shows you step-by-step how to achieve an authentic manga style - from drawing faces and figures to laying out awesome, high-drama spreads. You'll learn how a few basic lines will help you place facial features in their proper locations and simple tricks for getting body proportions right. Plus, you'll find inspiration for infusing your work with expression, attitude, and action.

This is the book fans have been requesting for years, packed with expert tips on everything from hairstyles and clothing to word bubbles and sound effects, delivered in the same friendly, easy-to-follow style that has made Mark Crilley one of the "25 Most Subscribed Gurus on Youtube." Take this opportunity to turn the characters and stories in your head into professional-quality art on the page.
Even though I'm ashamed to say I've read very little manga, I absolutely love the style of drawing and would love to be able to master it. I love Mark Crilley's drawings and tutorials on Youtube, which is how I originally found out about this book. Plus, I think manga is a fantastic means of storytelling, and I'd really like to be able to experiment with it.
~blackandwhitedreamer